Looking for reliable telegram crypto buy and sell signals?
Well, that's exactly what we got for you!
We offer the best options compared to other providers.
With risk management information provided along with every signal – a unique feature among free crypto signal services.
Added to that, our supportive community in our Telegram group is always ready to answer your questions about signal usage and other trading-related topics.
Whether you're interested in longer-term trades with our trend following strategy, or quick trades with our scalping strategy, we've got you covered.
So why wait? Join us today and start trading smarter with our free crypto signals on Telegram!
You can also have direct access to all our top signals via the Free crypto signals feed.
The feed is accessible directly on our website and provide you with the latest up to date signals for BTC, ETH, BNB and many other cryptocurrencies.
Why our free crypto signals on telegram are the best
Our signals are very easy to follow, and what really set us apart is our risk management information.
We will provide you with a backtested position size that is adapting to the market volatility.
This features is in place to make sure that your funds are safe while using our telegram signals.
I am not aware yet of any other signals providing that information. Leaving their users in the dark and creating very dangerous situation in term of potential losses.
So if the protection of your funds is something important to you, our telegram signals are probably a good fit.
Our free crypto signals for Telegram include:
Entry & Exit
Stoploss Price
Position Size
We offer free signals for 2 of our strategies. A Trend Following one where trades generated by the signals can last from a day to a few weeks.
And a scalping strategy that will provide you with quick trades lasting from a few minutes to a day.
The choice is yours. You can also check out our free signals page to view all the strategies and active signals.
The signals are generated primarily for Binance. But you can still trade them on Kucoin or any other cryptocurrency exchange of your choice. As long as the pairs are available.
Here's an example of an Entry signal on Telegram: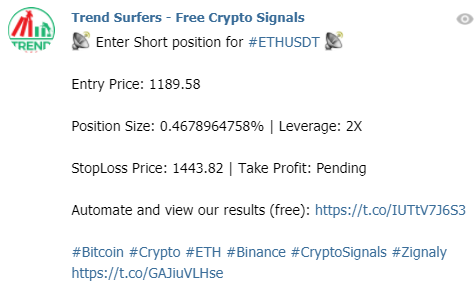 Entry Price from the Telegram signals
The entry prices that are specified in the Telegram signals are the price at which the users using the automated signals opened the position.
We enter all our positions at market price. So when you receive a new message in the Telegram channel for an ENTRY, you need to act immediately and enter a position. Do not use LIMIT because you might very well get left behind.
Position Size from the signals
All the position sizes provided on Telegram are calculated based on 11 pairs, if you decide to follow the signals only for 10 or 5, or even 1 of these pairs, you can adjust your position size accordingly.
All the pairs have been backtested and provided us with good results, but BTC and ETH are at the top of the list in regard to returns.
Leverage
The leverage is also included in all our entry signals. This is part of the Position Size which is part of the risk management, if you want to only use 1X, you can adjust your position size accordingly. Ex: 1% at 2X would become 2% at 1X.
Stoploss Price
The stop-loss price must be entered at the same time that you open the new position.
This is a hard stop-loss price, so set it and forget it.
It's important to use a stop-loss.
Basically, it's a tool that helps limit your losses if the market goes against the signal. If the price hits that level, your trade is automatically closed, so your funds are protected.
Using a stop-loss is a smart way to keep yourself from losing all your money in one bad trade.
So make sure you set it and stick to it when you're following our crypto signals on Telegram!
Take Profit
Our take profits are always Pending as our strategy lets the winners run. We have no idea when we enter the position, what will be our take profit price.
In order to take a profit, you will need to follow our Telegram and wait for the exit signal which looks like this:
If you are in a trade, and you see an exit signal, you MUST exit the position at a profit or a loss.
Trailing Stoploss
Our crypto signals also include a dynamic trailing stop loss. Because it is dynamic, we can't include it in the entry signal. But once it is triggered, an exit signal like the one above will be twitted. Again, when you see an exit signal, Exit the position as fast as possible.
Follow every crypto signals on Telegram!
Our strategy doesn't have a very high winning rate, but the winning trades are very high returns. This is why it is important that you stay consistent in following those signals received on the Telegram channel.
If you choose to follow the signals for only a few pairs, follow every signal for these few pairs.
We never know when the next big winning trade will happen!
If you are afraid that you will not be able to follow every signal, you might want to use our automated signals on Zignaly. By doing so, you can be sure to get every single new position that we open 24/7!
Key benefits of our free crypto signals on Telegram
Risk management information is provided with every signal, which is unique among free crypto signal services.
We offer a supportive community in our Telegram group, where you can ask questions about signal usage and other trading-related topics.
Our signals include entry and exit points, stop-loss prices, and position sizes.
We offer free signals for two strategies: a trend following strategy for longer trades, and a scalping strategy for quick trades.
The signals are generated primarily for Binance but can be traded on other exchanges as long as the pairs are available.
All pairs have been backtested.
The leverage is included in all entry signals.
Need help?
Don't hesitate to contact us via our email form or join our discord community if you need help with anything!